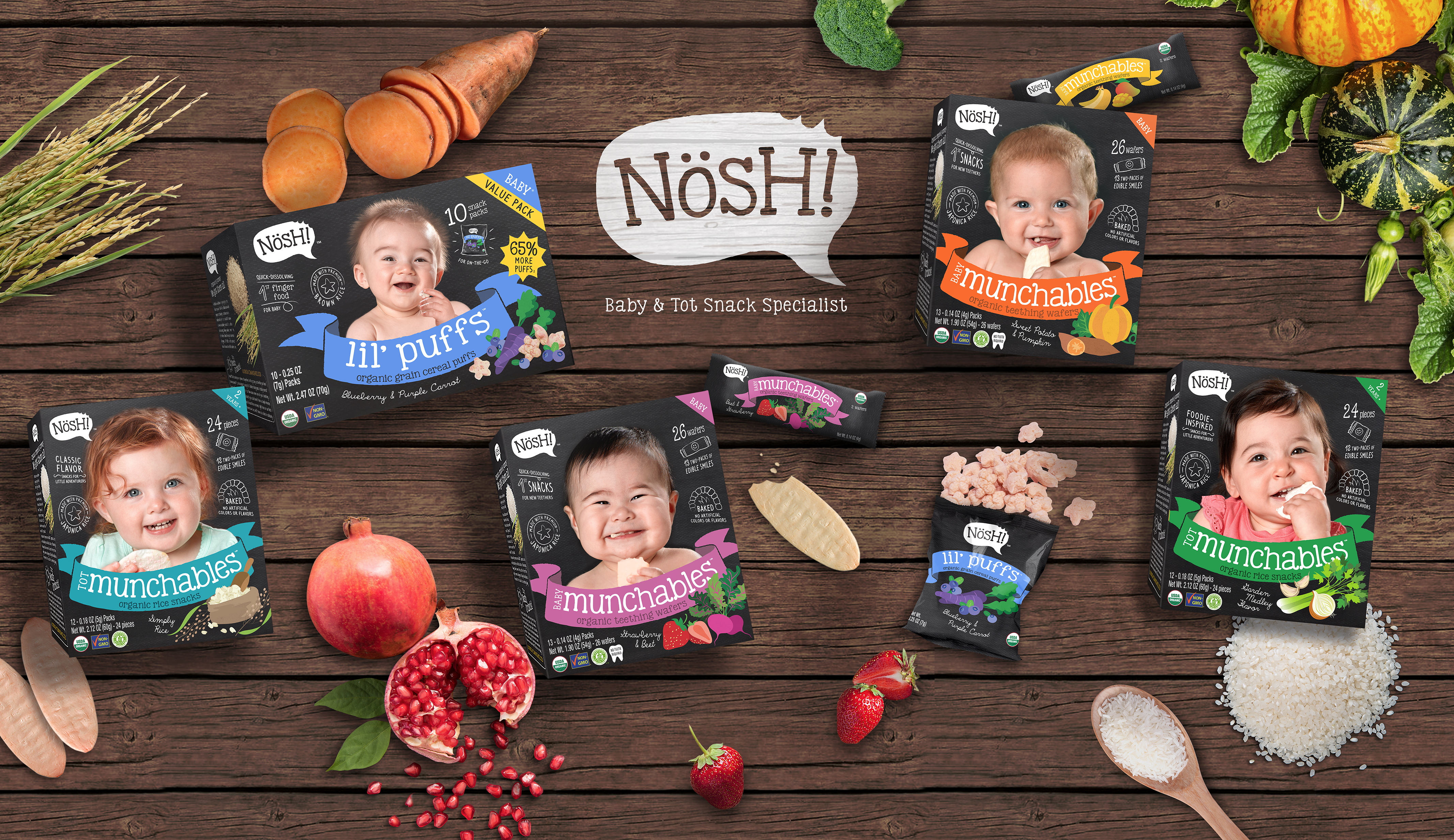 They say word of mouth is the best form of advertising, and for our client, First Start Holdings, Inc., a recommendation was enough to spark interest in Fuzion. Co-owner, Jonathan Weiner, came to us looking to brand their new line of organic baby teething biscuits, toting the brand name "Nosh."
Enter Fuzion. Working closely with Jonathan and his team, Fuzion dove into the branding of Nosh with some serious research, both primary and secondary. We developed a brand strategy, finding the voice of the new brand and what our core consumer, the millennial, expected from it. Through numerous surveys and working closely with the Nosh team, we shaped the brand identity and name-stormed the perfect nomenclature for their teething biscuit. Nosh Baby & Toddler Munchables were born (and we still can't believe it was available). With a farm stand black chalkboard look, simple hand-drawn illustrations and engaging lifestyle photography of babies enjoying their Munchables, Fuzion shattered the bland retail space in the baby snack food aisle.
Fuzion concentrated on a strong web experience and social media, linking the brand look, the humorous voice (no teeth required) and too-cute-for-words lifestyle photography (shot by the talented Angela Coppola) across all platforms. Launching at 400 Babies"R"Us in September 2016, Nosh has realized explosive growth both in the U.S. and internationally. Currently Nosh is selling in over 4,000 stores in the U.S. and 6 countries. With retailers begging for more products, First Start Holdings, Inc. are launching a host of baby and toddler organic snack foods from premium brown rice puffs to foodie flavored gummies. 
If you are interested in having Fuzion present "How Millennials Are Changing Brands" to your team, please contact Wayne or Esther at: wayne@fuziondesign.com or esther@fuziondesign.com. If you're not local, we would be happy to present Via GoToMeeting.