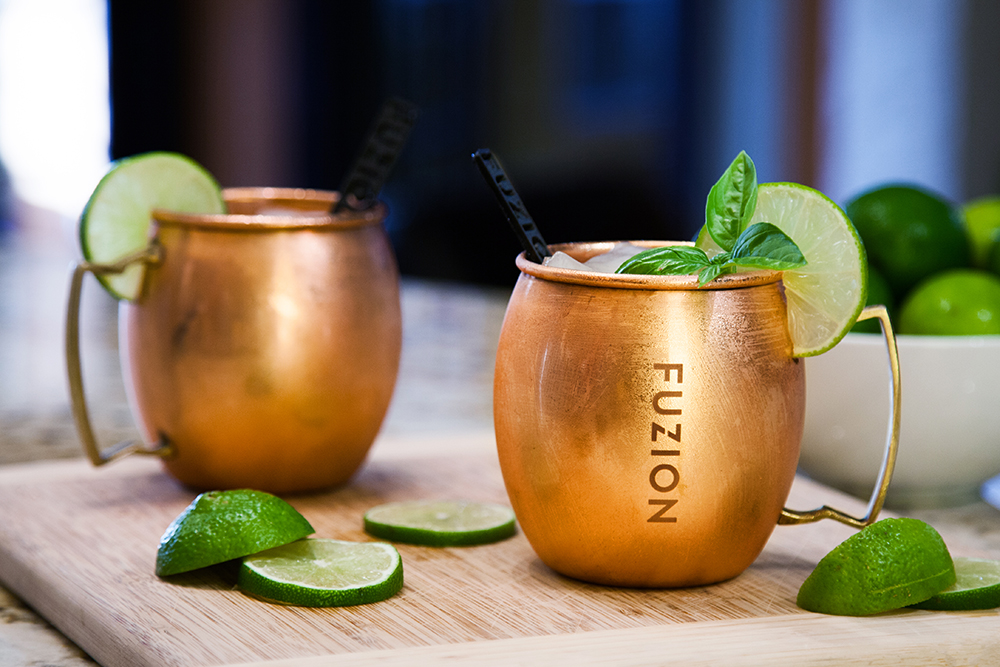 On September 22nd, as part of the Annual Design WeekRI, Fuzion hosted a Happy Hour, and if we must say (and we must) it was a smashing success, with over 50 attendees of new friends and old. Our bartender (and designer), Dave Costa, served up refreshing Fuzion Mules in frosty copper mugs emblazoned with our new logo, which was also a complimentary gift for attending the event. Some of Fuzion's finest gave tours of the studio while our guests chatted and enjoyed a gourmet repast. The highlight of the evening was a presentation by our Associate Creative Director, Esther Tseng, on how to sell to the finicky millennial. A good time was had by all and we'd like to say thank you to DESIGNxRI, and all that attended for making the evening such a success.
As Fuzion moves forward, we would like to congratulate owner and President Wayne Blatchley for recently graduating from the Goldmans Sachs 10,000 Small Business program. He was one of 24 Entrepreneurs in RI in the 3rd Cohort of this 12 week stellar program that offers a mini MBA in business. Wayne noted that it was lot of hard work and discipline to complete the course, but it really gave him a perspective of how he can do little things every day in his business to make it more successful. The biggest take away for him was learning to work on his business, and not in it. He is already applying his growth plan by adding a digital cutting table to Fuzion's arsenal of creative tools. It will enable us to produce more package mocks-ups, faster, and at a higher quality than before. It was something our clients were asking for, and Wayne had been thinking about for years, and the 10K Small Business program helped him devise a growth plan to make it a reality. Our new CAD table is being shipped from Europe as we speak!
In other news, we continue to grow our knowledge base of trends in the graphic world and to that point, Esther Tseng has been accepted into a Design Forward program run by DESIGNxRI. Design Forward offers a comprehensive strategy to strengthen and support the design sector skills, talent pipeline, and career trajectories in Rhode Island and we are just as excited as Esther, that she is taking part in this great program.