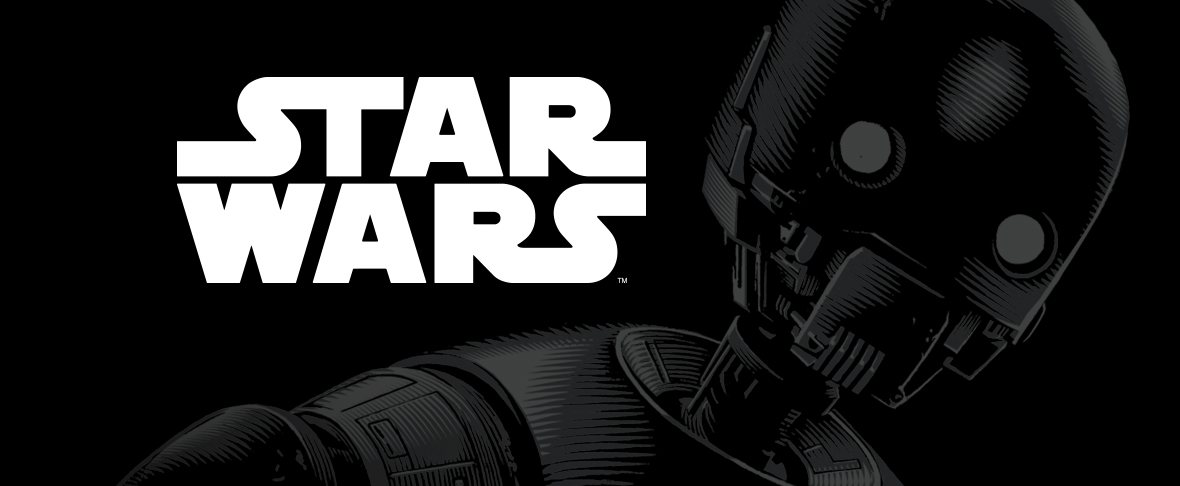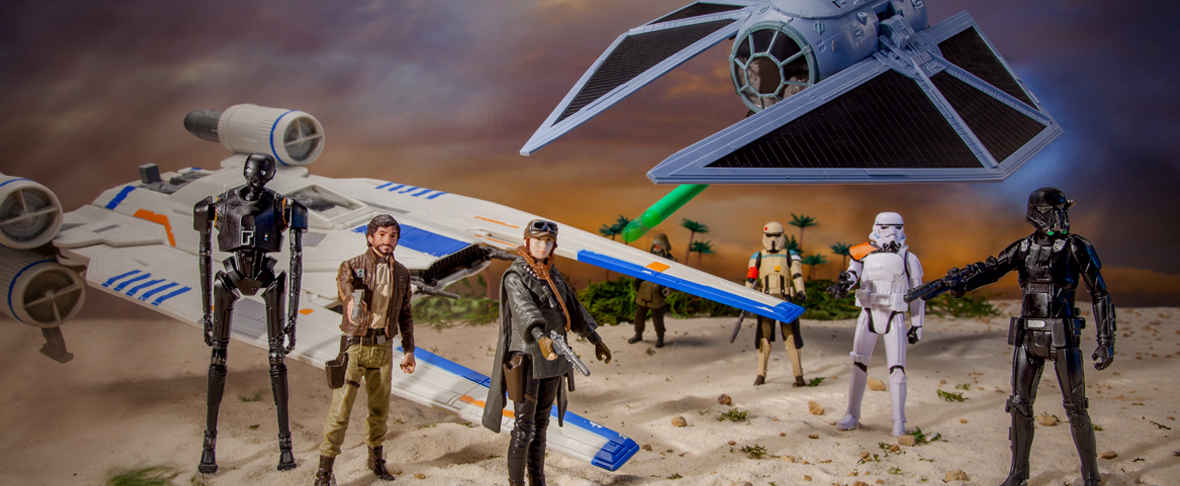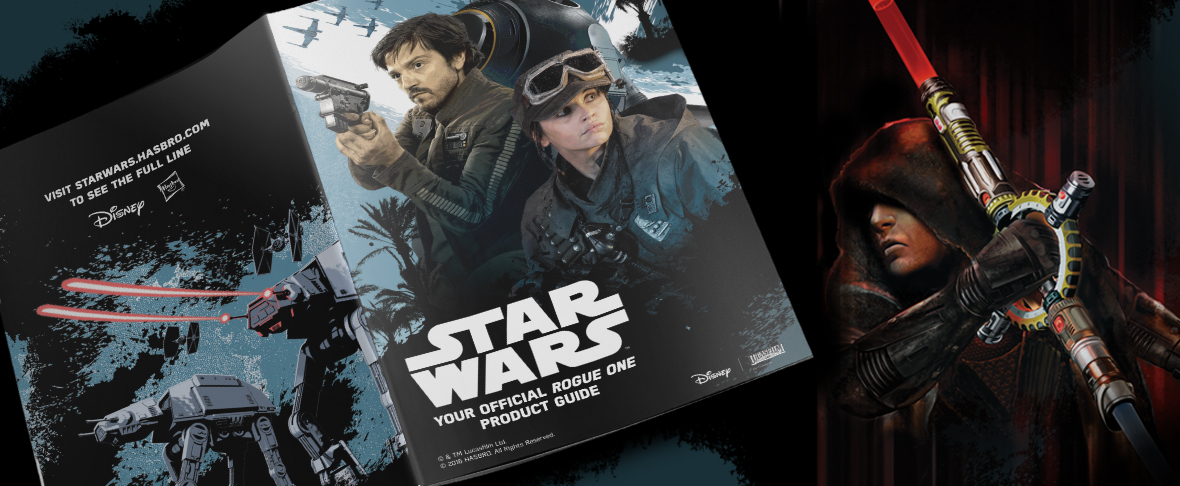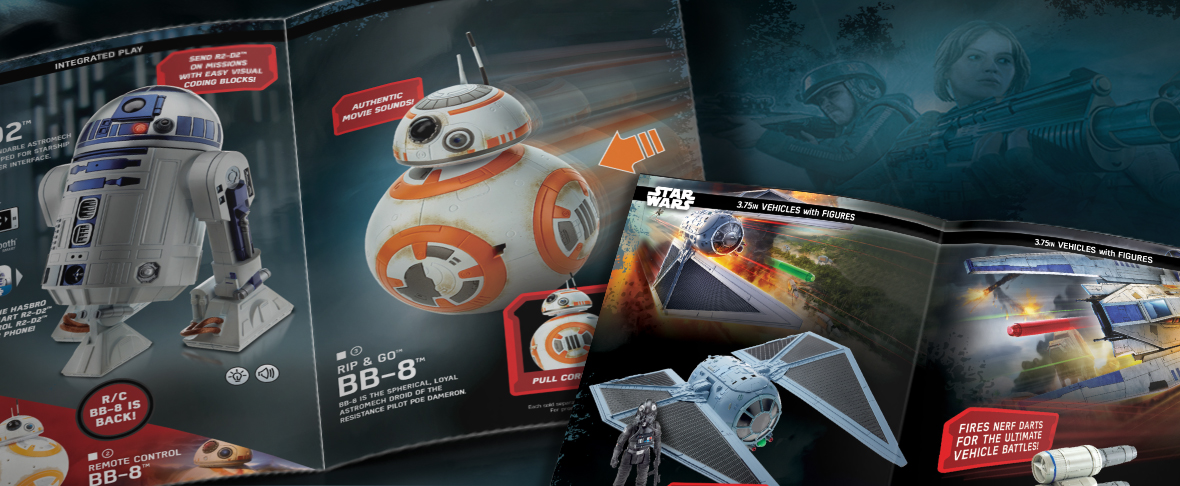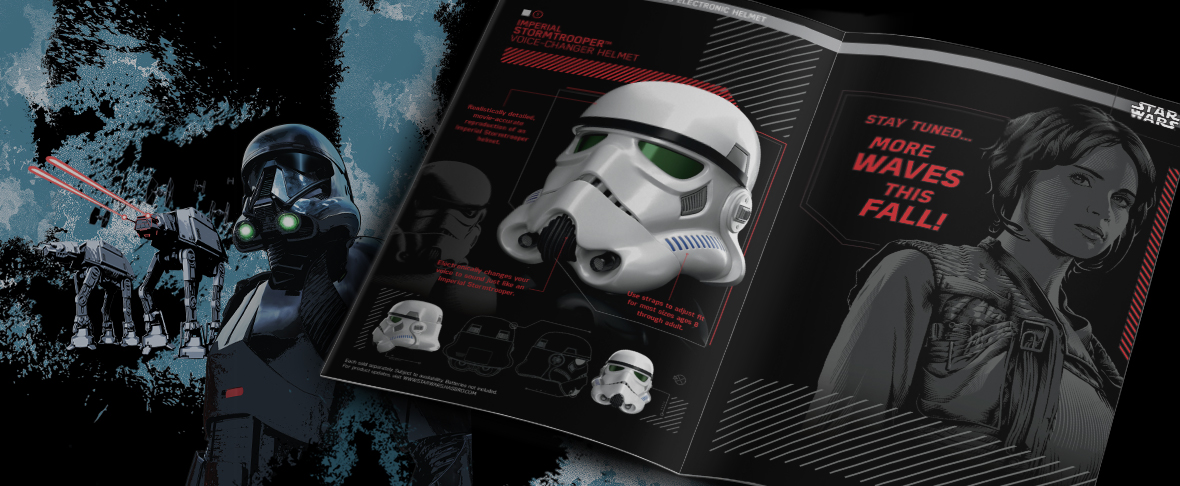 HASBRO STAR WARS
A long time ago in a galaxy far far away… a mega brand was born.
Hasbro's astute marketing team reached out to us for the development of the Star Wars Rogue One product catalog. Fuzion worked closely with the Star Wars marketing and design teams to create a one-of-a-kind product overview, from laying out the entire catalog for digital and print with 70 products, to building a 8 foot diorama to showcase new figures and vehicles. Utilizing code names for products and under a shroud of secrecy, we worked closely with the marketing team to create a 34 page showcase for their biggest license, Star Wars.
PHOTOGRAPHY & DIORAMA
Glimpsed briefly in the trailers, the climatic beach battle in Rogue One takes place on a vast, beach-covered planet that would be the perfect galactic vacation spot were it not for the deadly war. With snippets of screen captures of the trailer for reference, Fuzion built a 4'X8' diorama of the beach battle on Scarif. Ten pounds of sand and a dozen or so miniature palm trees later, our in-studio version of the Sacrif battle ground came to life. Finding the right slightly menacing sky for the backdrop was a challenge, as it didn't want to look too much like a sunny romp on the beach. Fast forward to the day of of our 8 hour shoot to capture the perfect image for a double page spread in the the catalog. So successful were we, that besides removing the nylon line from the hanging vehicles, very little photo retouching was needed for the final image.
PRINT COLLATERAL
One of the challenges for Fuzion was that many of the final products were unavailable to us as we started to design and layout the catalog. Code names were used for many of the characters and vehicles. Upon the completion of the catalog, we were given a final list and needed to accurately update code names for the real deal. Attention to detail was a must as well limiting who got to see what we were working on. Unfortunately, we had to sequester one of our janitors for several months until the film was released.