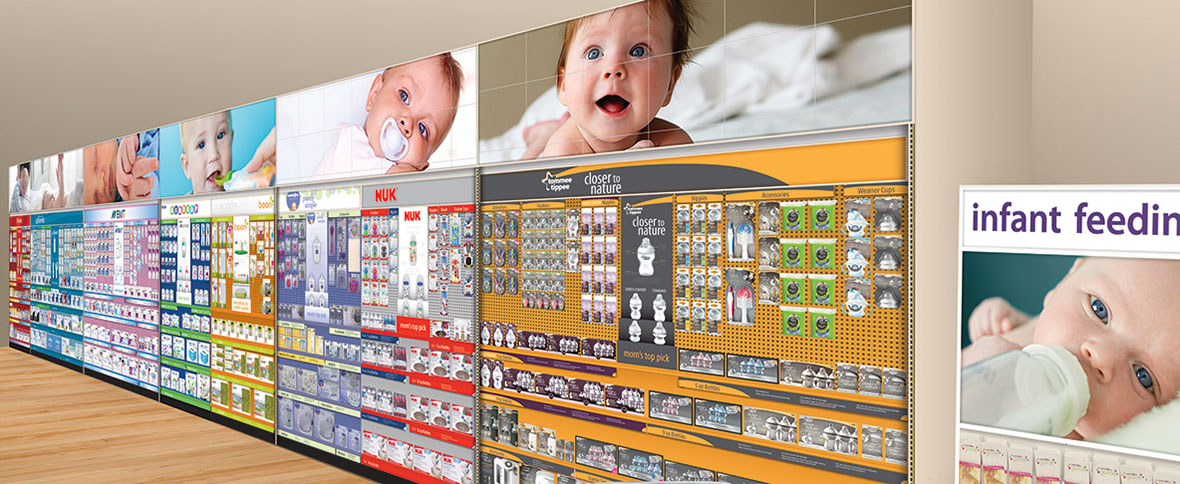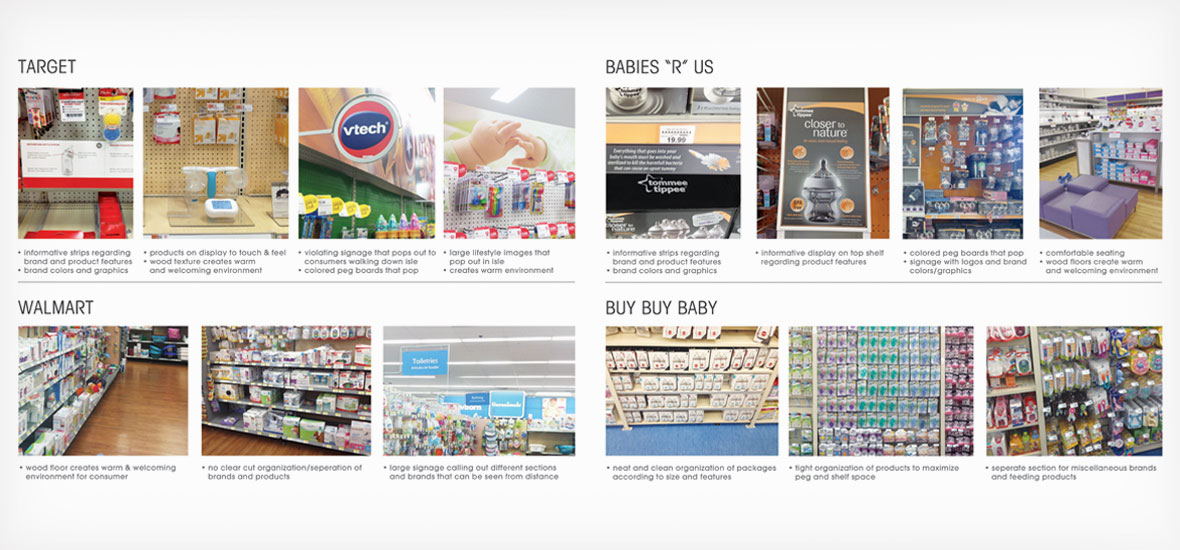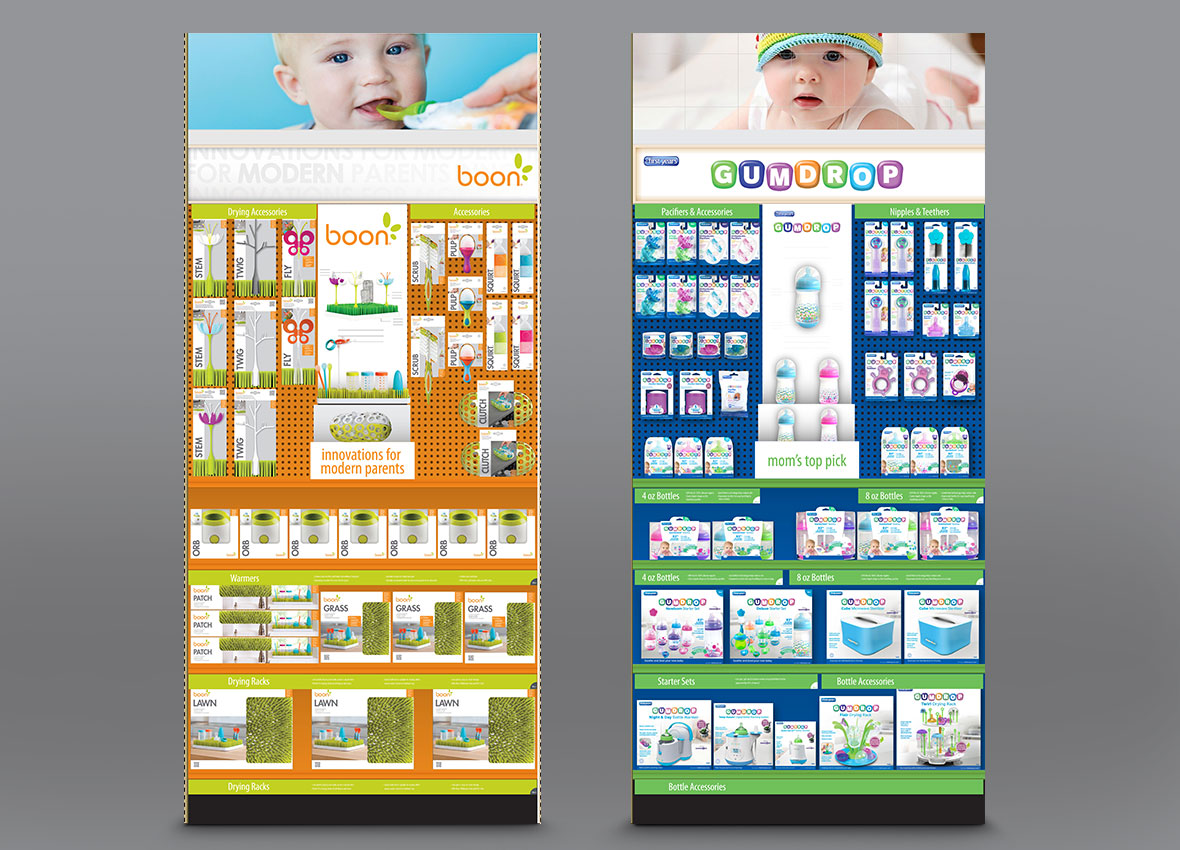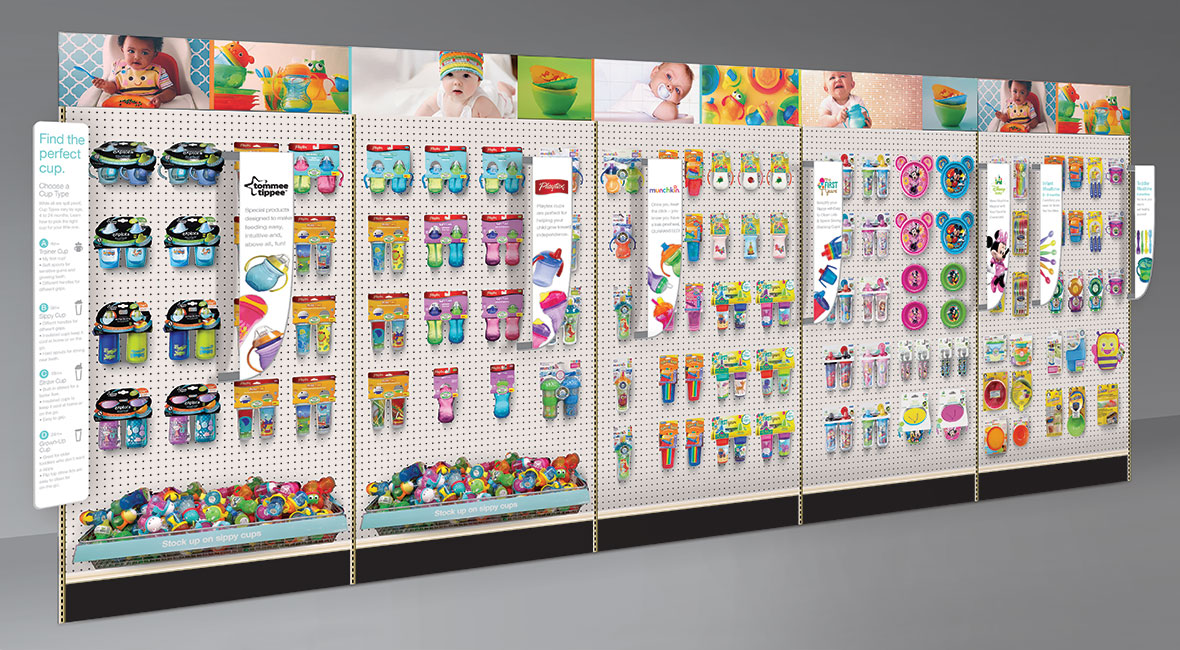 BABIES 'R US FEEDING AISLE
The feeding aisle at Babies 'R Us is known for its wide range of major and specialty brand feeding products a category experiencing rapid growth. Now housing over 220 items, the feeding aisle has had some growing pains, and the cluttered, unclear organization of merchandise in the aisle created a confusing shopping experience for the customer. Tomy, the mother company of The First Years and Boon, approached Fuzion with the challenge to make the aisle more shoppable.
We gathered and analyzed user insight and sta feedback, while exploring myriad ways to evolve Mom's shopping experience. The end result was a brand-centric, warm and colorful aisle that draws the consumer in. Individual sections are distinguished by logos and colors, giving each brand a unique presence. Displays featuring actual products that consumers can see and touch, and organization based on age and product type, creates a more intuitive approach to evaluation and selection.
RESEARCH AND USER INTERVIEWS
To understand the problems with the current aisles we visited the feeding aisle of several major retail stores. By studying their signage, product arrangements and actually conducting interviews with both customers and store staff, we were able to get first-hand knowledge of the retail experience. Two guiding ideas we gained from the interviews were that most consumers conducted extensive online research to know exactly what they needed before they ever got to the store, and that unique feeding systems specific to each brand created strong brand loyalty among consumers.
NEW FEEDING AISLE
With our comprehensive research as a guide, we envisioned a warm, inviting environment in which the feed products would be organized by brand. The presence of each brand would be enhanced by its logo and core colors and actual products would be on display for size reference and customer education. Large, engaging lifestyle images, wood flooring and comfortable chairs with touchscreen tablets would create a relaxing space for moms to rest while looking up the right product.
SECTION VIEW
Within each brand we proposed using shelf-strips to clearly call out the age and sub-section of the products. This method of organization, from brand to sub-type to age, best reflects the way consumers actually want to shop.
TARGET
Our brand-centric merchandising concept was applied to the toddler feeding aisle at Target. New signage with icon systems state the age and usage of each type of product, making the shopping experience quick and intuitive.