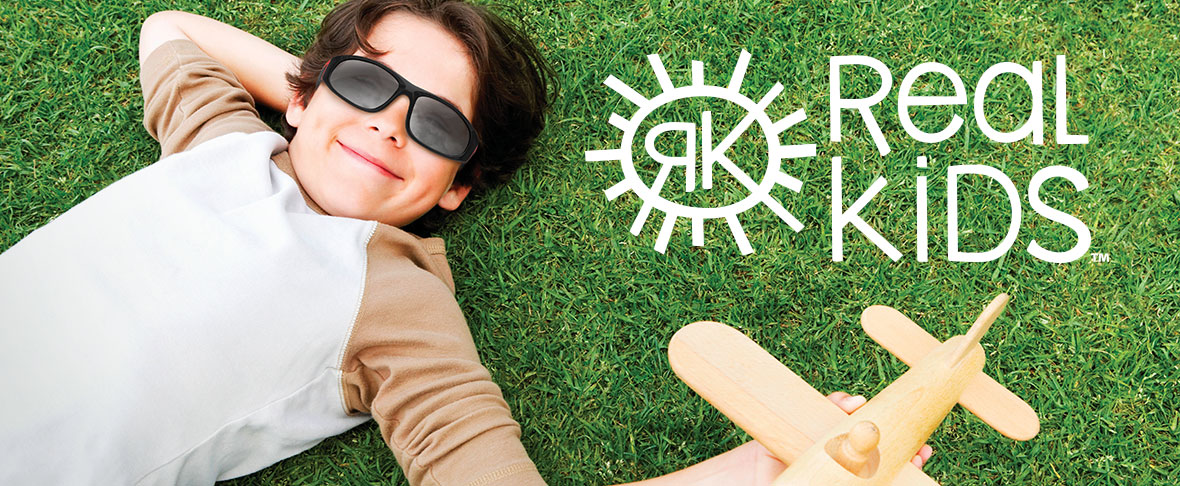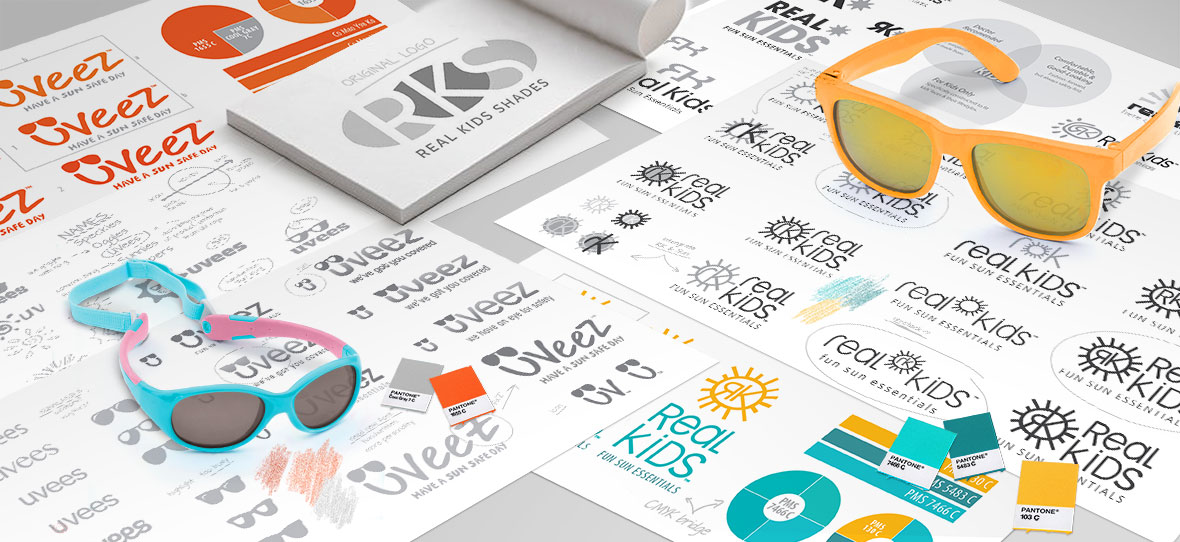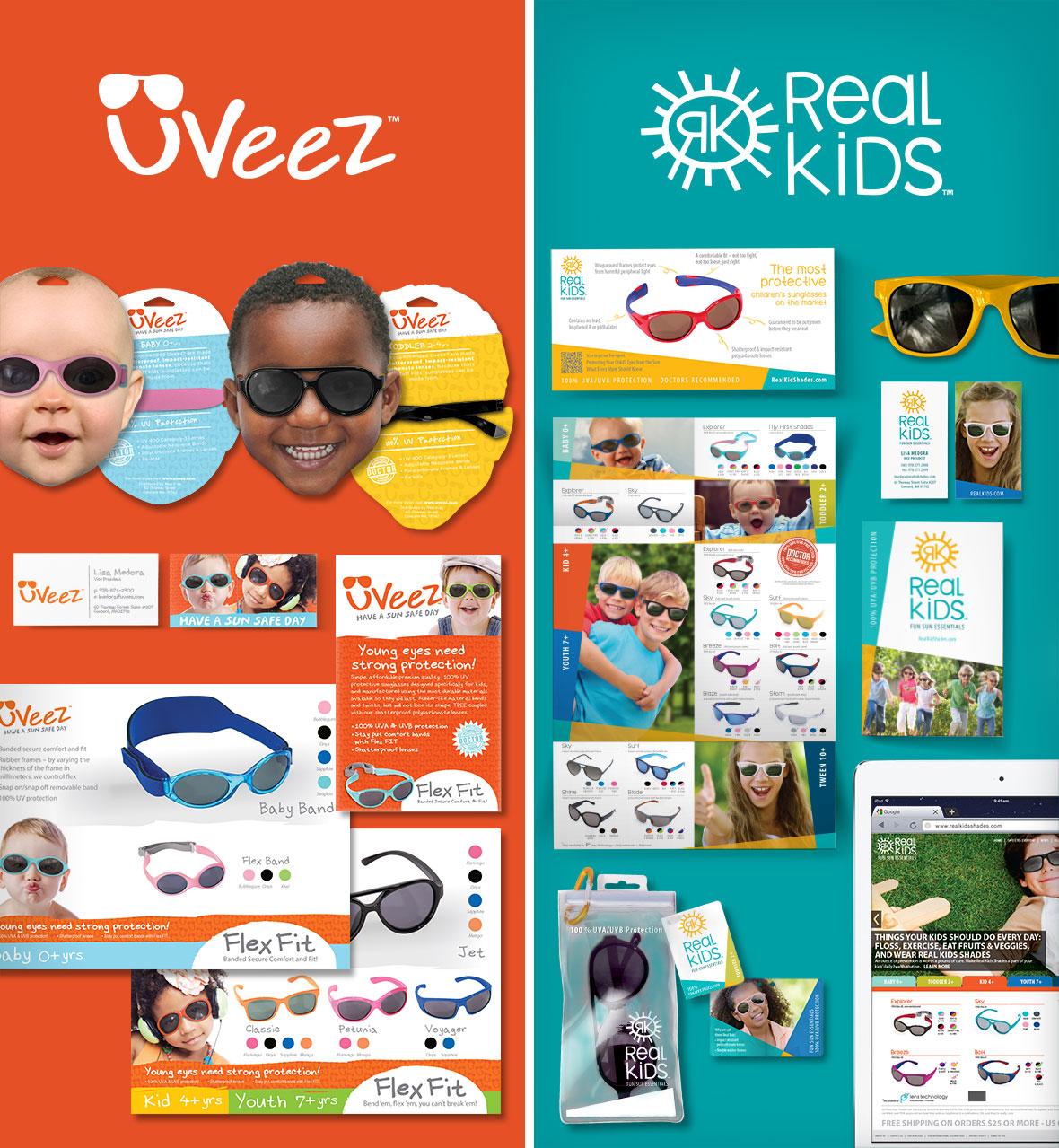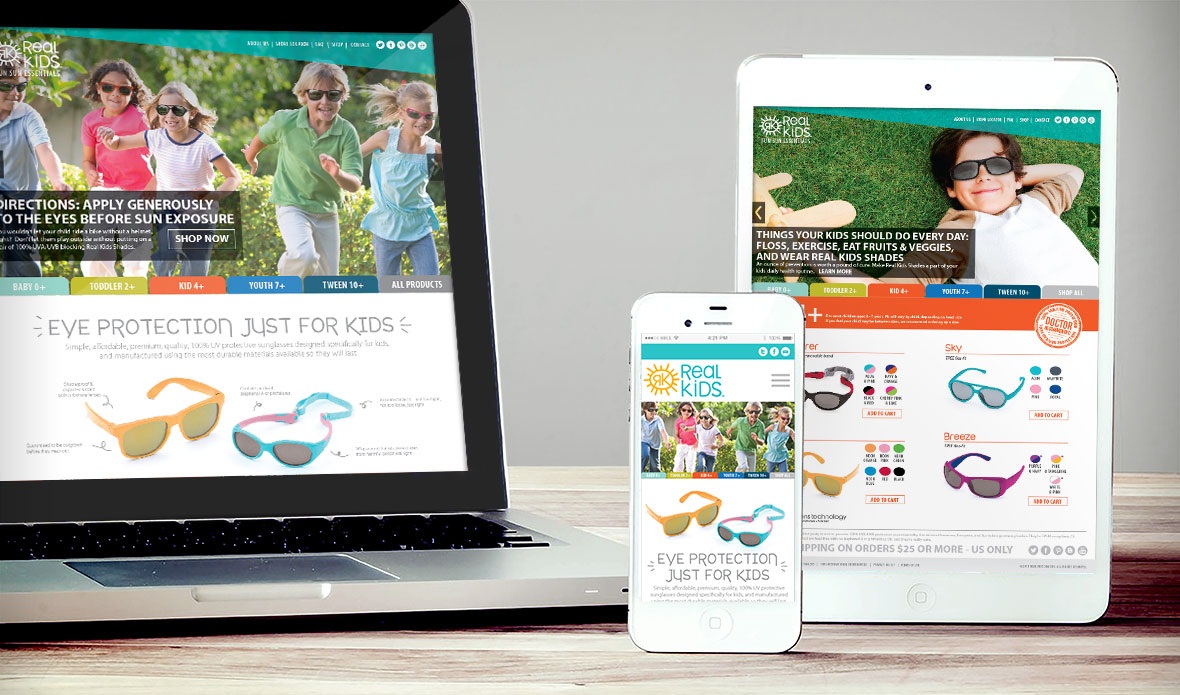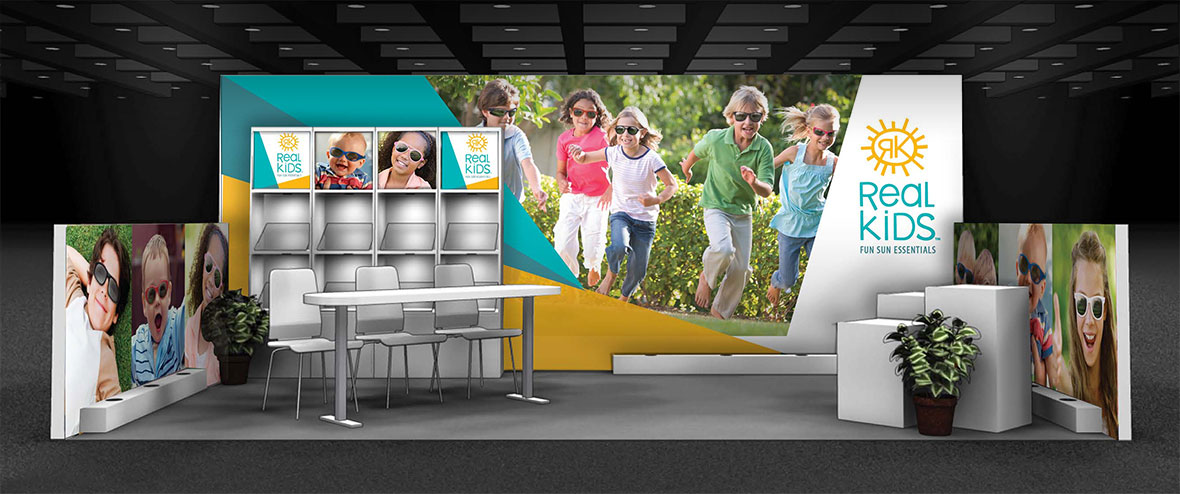 REAL KIDS & UVEEZ
Since 2002, Real Kids Shades has built their brand making premium quality, affordable, 100% UV protective sunglasses designed specifically for kids from ages 0-12. Fuzion was challenged to help refresh their brand to better communicate their brand messaging and stand out in the competitive niche market. Collaborating with the Real Kids Shades team, Fuzion helped build two unique brands. Their core line, shortened to "Real Kids" targeted high-end specialty stores, with a look and feel that spoke to the premium quality of the products. We crafted messaging to convey to parents that Real Kids sunglasses were a necessity to help protect their children's eyes. The secondary brand we developed and named, "Uveez" was designed to be in big-box stores such as CVS and Babies "R" Us. Along with the playful name, Uveez carried out a fun, energetic visual. Each brand was carried out onto various packaging solutions, marketing materials, a website and show booth layouts.
STRATEGY & BRANDING PROCESS
After analyzing the existing brand and working closely with their team to strategize the best way to segment the brand, we developed two tiers under the umbrella brand – their main, high-end/specialty line, shortened to "Real Kids" and a fun, quality mass-market brand, for which we developed the name Uveez. We created simplistic, clean logos for each as both brands' sizes spanned from babies through teens.
BRAND IDENTITY
Each brand needed to be distinctly different, but carry the overarching messaging of sun safety for kids' eyes. The Uveez brand took on an energetic personality by utilizing engaging imagery and bright colors. The Real Kids line had a more sophisticated look, using rich lifestyles with warm backgrounds, a refined color pallet and dynamic angles to speak to the premium quality of the products.
PROMOTIONAL PACKAGING
In addition to the standard vinyl bag packaging that would be sold in stores, we developed a promotional kit for the Real Kids sunglasses. The matchbox structure enhanced the packaging experience and called out the size/age grade using a color-coding system. Each box contained a booklet to introduce the brand and product info.
WEBSITE LAYOUTS
To create a consistent brand language, we developed the front end of the website to extend the brand's visual identity. The goal for the website was to provide lifestyle inspirations with RK glasses, which were accomplished with the use of oversized, engaging images. The website featured tab navigation that corresponds to the packaging's color coding system, allowing user to easily switch between the sizes/ages.
SHOW BOOTH
To help launch the new brand, we designed a show booth layout for the Outdoor Retailers Show in Salt Lake City. The booth used impactful lifestyles paired with bright colors to bring the brand to life.